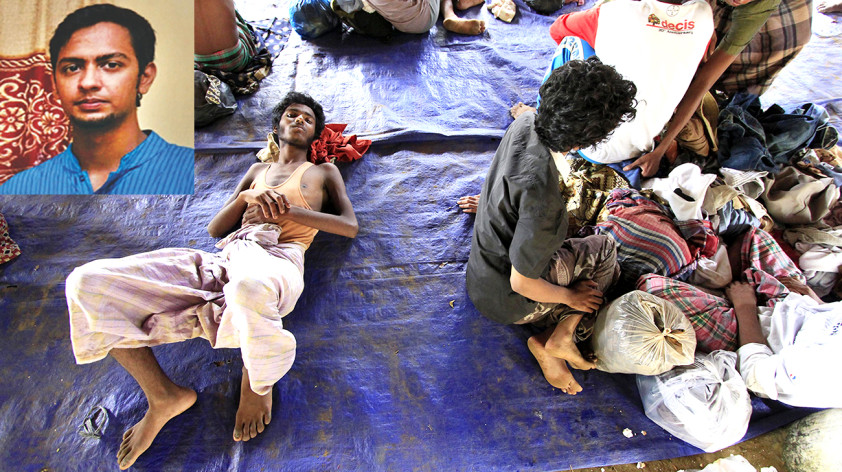 Migrants believed to be Rohingya rest inside a shelter after being rescued by fishermen at Lhoksukon in Indonesia's Aceh Province May 11, 2015. Photo: Reuters. The photo of Sabbir Hasan is given inset.
AFP Jakarta office confirmed that the student washed away in Bay last year and the youth found in Indonesia are not the same person.
The identity of the youth was verified by our Jakarta colleagues as Abdul Hakim, a resident of Cox's Bazar, says AFP Dhaka office today.
Sabbir Hasan and his friend Ishtiaque Bin Mahmud Udoy, both students of Ahsanullah University of Science and Technology, went on a trip to St. Martins along with 32 fellow students in April last year to celebrate the Bangla New Year.
A joyful trip turned tragic in a simple twist of fate when six of the students drowned in the sea on April 14. Four bodies were recovered but those of Sabbir and Udoy could not be found.
Around 14 months after the tragic incident when Sabbir's parents saw the AFP photograph in a newspaper on May 11 they claimed that their son was alive and was kept in an illegal migrant camp in Aceh, Indonesia.
"That's our son, we are sure about it," Hasanur Rahman, father of missing Sabbir Hasan, said pointing at a youth in a photograph of the migrants. He was talking to The Daily Star on Thursday.
Following the claim, AFP journalists in Jakarta on request of its Dhaka office travelled long distance to verify the youth's identity.
In a facebook status today, Shafiqul Alam, Bangladesh bureau chief at AFP, says, "Sorry to say, our photographer in Aceh has confirmed that the young man thought to be the long missing engineering student is not Sabbir Hassan. He is Abdul Hakim from Cox's Bazar. I've interviewed him and his friend Mizanur Rahman!"
Source: Daily Star