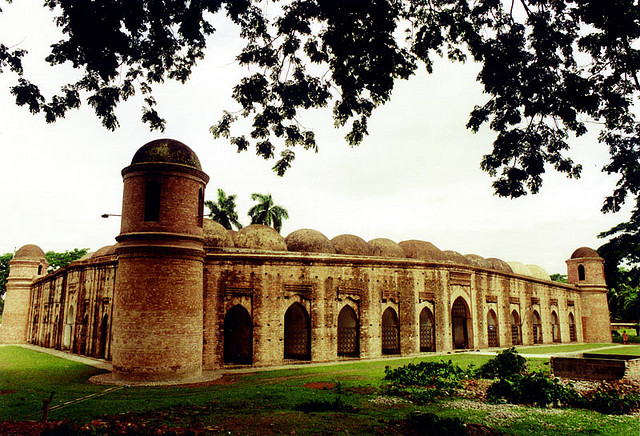 Bangladesh
Historical Place in Bangladesh (2023-Updated)
Bangladesh is an independent country located in South-East Asia. It is bordered by India and Bay of Bengal and little bit Burma. Dhaka is the capital of Bangladesh, located in the heart (center) of Bangladesh. Bangladesh is a small country, but it's very rich in its historical site. and here we listed the best historical places to visit in Bangladesh.
So, Let's get started.
Top 27 Historical Places to Visit in Bangladesh
1. Mosques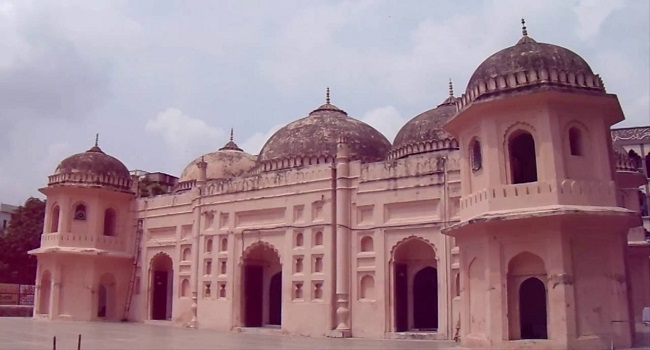 Dhaka is the capital of Bangladesh, that is why it has importance. Dhaka is known as the city of the mosque. There are thousands of mosques all over the city. Most of these mosques are very old. These are very beautiful and have historical value. The seven mosques (it was built in the 17th century). Baitul Mukarram Mosque (The national mosque of Bangladesh). Star Mosque (it was build about 200 years ago). Chawk Bazar Mosque and Hussein Dalan Mosque.
2. Hindu Temples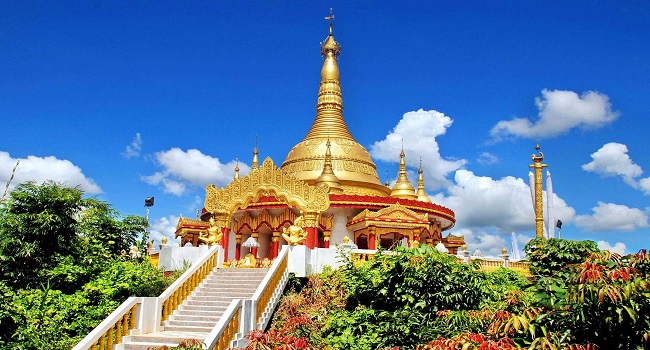 Bangladesh is a Muslim country, but there are many people alive who belong to other religions. Dhaka is not only famous for the mosques, but the city bears witness to the existence of rich Hindu culture that flourished till the arrival in phases of the Muslim conquerors. There are so many temples in Dhaka, and these are telling us the Hindu's story. The temple does not only bear historical interest but it still a place of worship. There is a famous temple called by Dhakeshwri Temple, this temple build in the 11th century. Ramkrishna Mission temple.
3. Churches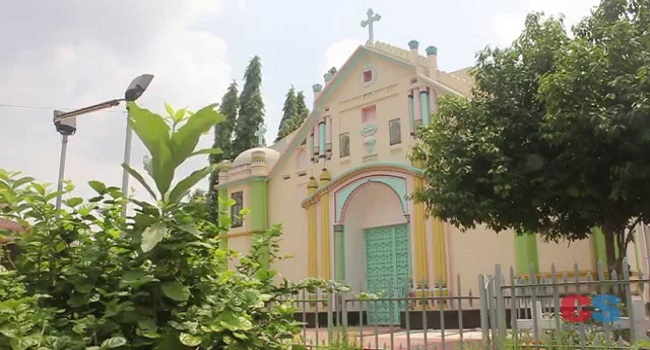 Dhaka has a cultural value. Many cultures and religions passed through the banks of river Buriganga and left its marks in the city of Dhaka. Christian people also live in Dhaka. And the churches bear the witness to the arrivals of the Christians. Among these, The Armenian Temple (it was built in the 11th century). St. Mary's Cathedral situated at Ramna. Holy Rosary Church at Tejgaon (1677 A.D.)
4. Lalbagh Fort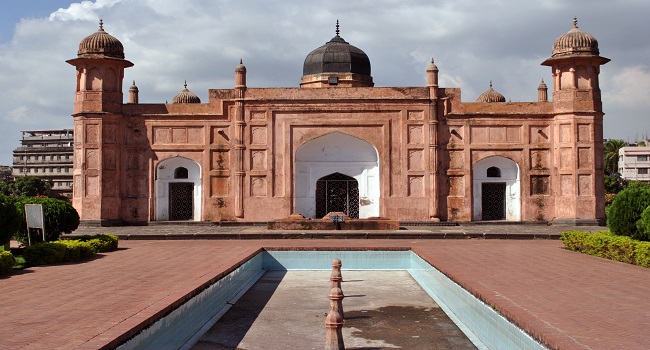 The Muslim rulers were built many building forts, that was the symbol of strength and protection. Mughal emperor Aurangzeb's son Mohammad Azam built the Lalbagh Fort, in 1678. The fort bears the history of bloody battle during the first war of independence. This building has a great attraction for tourists.
Lalbagh Fort also has some other important buildings, including the tomb of Pari Bibi, Lalbagh Mosque, audience hall, and Hammam of Nawab Shaista Khan, and it's now housing a museum. The Lalbagh Fort area is a beautiful area full of green trees. In front of the Fort, u can see a beautiful lake with some beautiful shower.
5. Martyred Intellectuals Memorial
This Memorial has a great historical value. The Martyred Intellectual Memorial situated at Mirpur, Dhaka. The memorial was built to remember the intellectual peoples who were killed in 1971, in the liberation war. They were killed by the Pakistani army just two days ahead of the victory day. It was a great sorrow for Bangladeshi people.
6. Central Shaheed Minar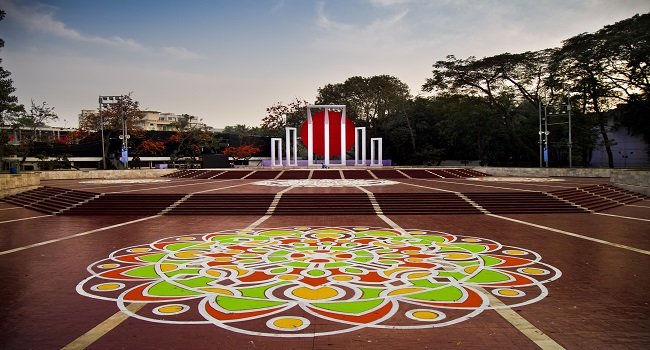 This place is the symbol of Bengali Nationalism. On 21st February in 1952, Dozens of students sacrificed their lives for the language. This monument was built to commemorate the martyrs of the language movement. Every year on 21st February, thousands of people visit the place with floral wreaths and bouquets. We all Bengali people remember them with a lot of respect and love.
7. Bahadur Shah Park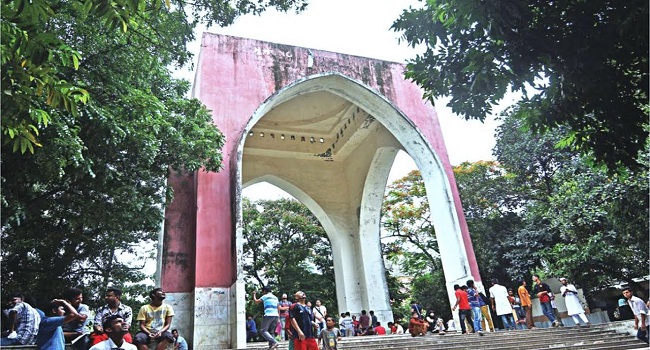 Dhaka is the city of the crowd. About 15 million people live here. Bahadur Shah Park built to commemorate the martyrs of the first liberation war at the site where revolution spays and their civil compatriots were publicly hanged.
8. Ahsan Manzil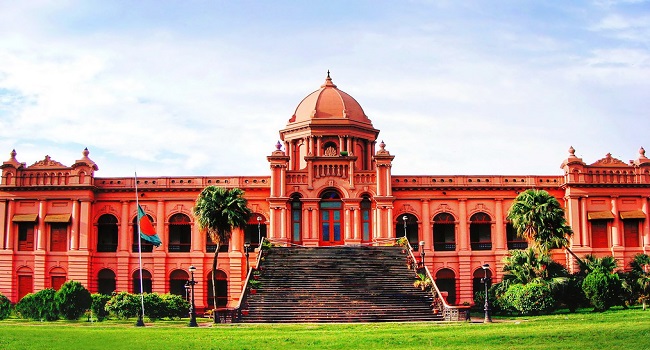 It is located on the banks of the Buriganga River. It was the official residential palace and seat of the Dhaka Nawab family. This Manzil bears the heritage of culture. The Ahsan Manzil now a museum.
9. National Assembly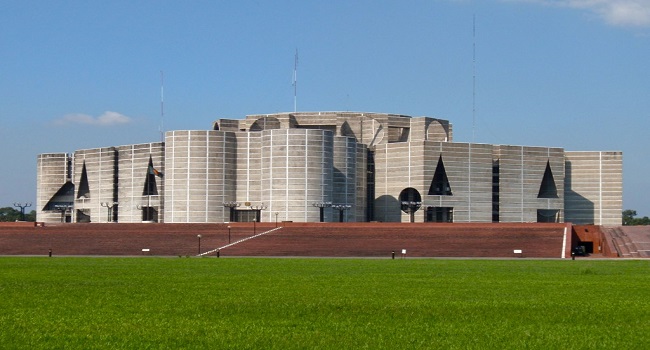 Jatiyo Shangshad Bhaban (Parliament House) at Sher-e-Bangla Nagar. Its construction was started in 1961, under the Pakistani government. The government of Pakistan wanted to be a federal legislature complex for both East Pakistan and West Pakistan. They wanted a rare design for it. It was designed by famous architect Louis Khan. It is one of the most attractive architectural monuments in the twentieth century. The architecture used lot of geometrical shapes to give a great view from outside. The construction of this monument was completed in 1982. The total area of the complex is about 200 acres. For its great design, this complex won the Aga Khan Award.
10. National Poet's Grave
Kazi Nazrul Islam the national poet of Bangladesh. He is known as a rebel poet for his great poetry. He died on 29th August 1976. The graveyard is adjacent to the Dhaka University Central Mosque.
11. National Museum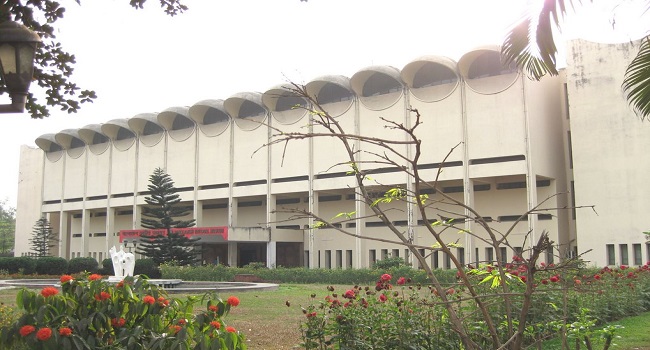 The National Museum was built Dhaka in 1913. It was renamed as the national museum when it was shifted to its new building at Shahbag in 1983. It is a four-storied building. It has forty galleries under four departments. Four departments divided by namely Natural History, History and Classical art, Ethnography and Decorative art and Contemporary Art and world civilization.
12. National Memorial at Savar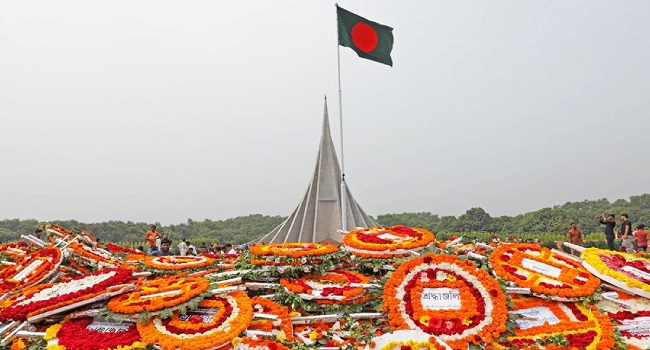 The National Memorial at Savar, Dhaka is a symbol of the nation's respect for the martyr's of the war of liberation. It is built with concrete but made of blood. It stands 150 feet tall, but every martyr it stands for stands so much taller. A national competition was held for the design of the project in June 1978. About 57 design was submitted, from those Syed Mainul Hossain's design was chosen.
Monument complex is spread over an area of 34 hectares (84 acres) wrapped around by a green belt of 10 hectares (24.7 acres). The main monument is composed of seven isosceles triangular planes each varying in size in its height and base. The highest one has the smallest base while the broadest base has the lowest height.
The main tower of the monument is 150 feet. This unique arrangement of the planes has created a structure that seems to change its configuration when viewed from different angles. The main monument built was by concrete and all the other structures and pavement of the complex are made of red bricks.
There are a lake and several mass graves in front of the main monument. From the main gate one can see the monument axially, but to reach there one has to walk through different levels of red pavements and cross a lake – all these representing the struggle for independence.
13. Old High Court Building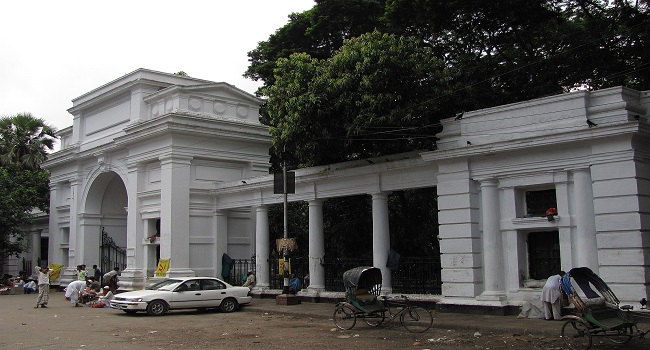 Old High Court Building was built for the British Governor. This building illustrates a fine blend of European and Mughal architecture. This beautiful building is situated north of the Curzon Hall of Dhaka University.
14. Sonargaon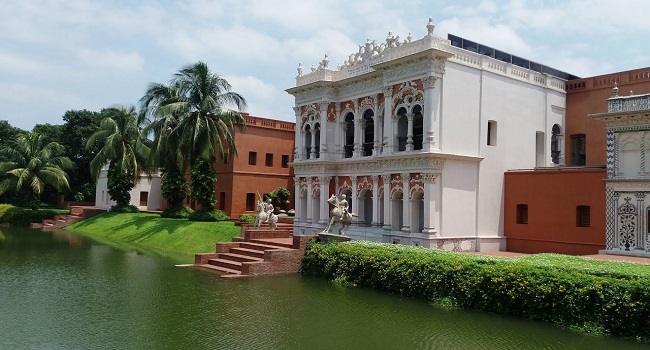 It is far about 29 kilometers from Dhaka city. Sonargaon is one of the oldest capitals of Bengal. It was established in the 13th Century. At present, a folk arts and craft museum runs here.
15. PaharPur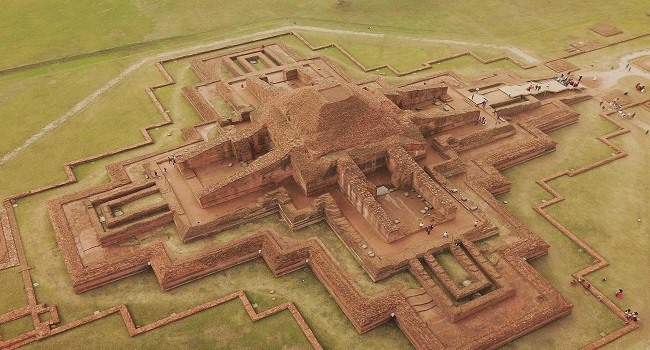 Paharpur is a small village in Rajshahi, Bangladesh. It is far away about 5 kilometers west of Jamalganj. It is one of the most important and the largest known monastery. The archeologist finds an area about 27 acres, in the 8th century. The design is like a pyramid. There was a quadrangular court, measuring more than 900 feet. There are 45 cells on the north and 44 in each three sides South, East, and West.
There are a total of 177 rooms. These rooms were used as the living room of Buddhist people, who were living here for their religious tasks. It was influenced by those of Southeast Asia. In 1957, a museum built there for contains objects recovered from the area.
The museum was decorated with terracotta plaques, images of different gods and goddesses, potteries, coins, inscriptions, ornamental bricks, and other minor clay objects. It has been declared as a world heritage site by UNESCO.
16. Mahasthangarh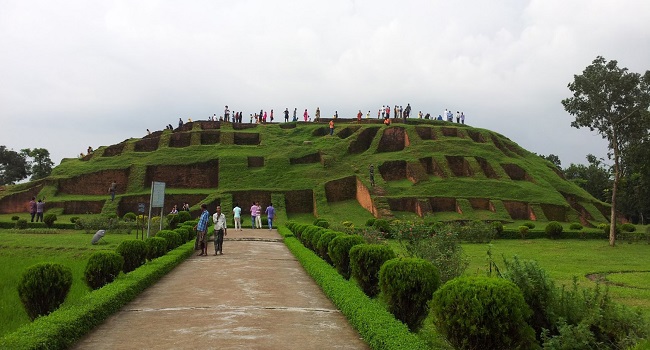 Mahasthangarh is one of the oldest archeological sites in Bangladesh. It is situated on the western bank of the river Karotoa. It is far away about 18 kilometers north of Bogra town. Visitors can easily be reached by the Bogra-Rangpur Highway. Several isolated mounds surround the fortified city-side, which bears the beautiful culture of Hindus. Every year in mid-April and once every twelve years in December, thousands of Hindu people gather here from around the country for a bathing ritual. It has historical value.
17. Mahasthangarh Museum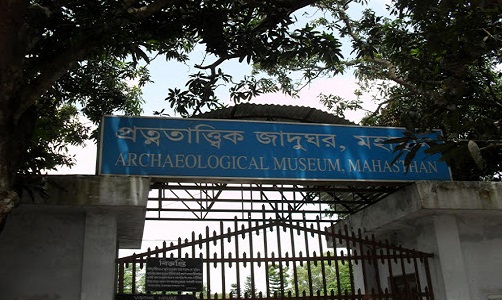 Mahasthangarh Museum, the collection a wide variety of antiquities, ranging from terracotta objects to old ornaments and coins. It is located at the site of Mahasthangarh.
18. Navaratna Temple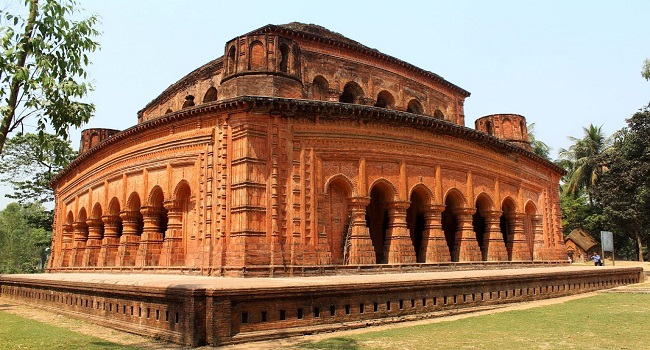 Navaratna Temple is one of the most ornate among the medieval temples of Bangladesh. It is located in the Kantanagar near Dinajpur town. It was built by the Maharaja Pran Nath of Dinajpur, in 1752. It was a Navaratna Temple. The temple designed with four richly ornamental corner towers on two stories and a center one over the third story.
19. Dighapatiya Rajbari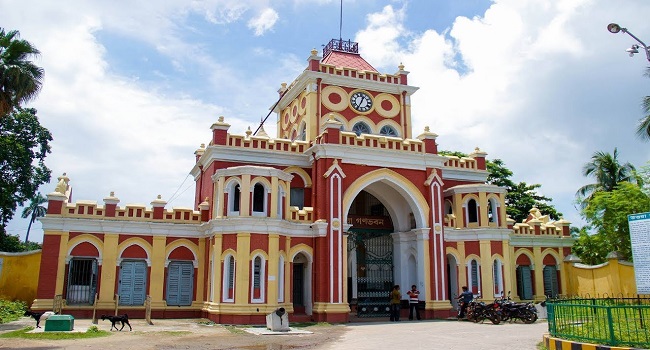 Natore is a District in the division of Rajshahi. It is the old seat of the Maharaja of Dighapatiya. Now the place used as the Uttara Ganabhaban (the official northern region residence of the President of the republic). The palace has a large spacious ground surrounded by a fine moat. The palace has a beautiful guest house, and a very imposing gateway and beautiful garden and the garden decorated with statues of white marble.
20. Tajhat Rajbari (Palace)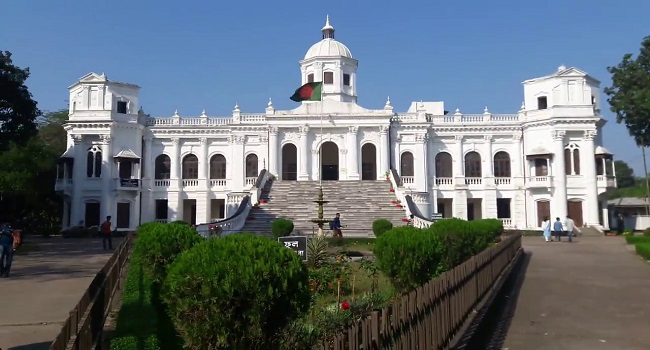 Tajhat is a historical place in Bangladesh. It is situated near Lalbag, Rangpur. This place is about 10 minutes drive from Rangpur town. It has a huge and beautiful Jamidar Bari (Palace). The palace in Tajhat, locally known as Tajhat Rajbari, it was built by Maharaja Kumar Gopal Roy, in the 20th century. Professionally he was a jeweler. It is said that from the conspicuous appearance of his taj his estate derived the name of Tajhat. This palace turned into a museum in 2005.
21. World War 2 Cemetery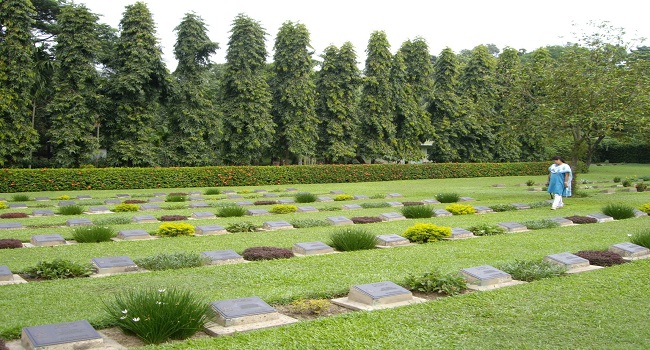 The warrior's of Second World War graveyards are in this Cemetery. There are 755 graves in these graveyards; there are those great warriors who died in world war two from 1939 to 1945 in Chittagong areas.
Among these graves, over 700 graves of soldiers who came from British, Australia, Canada, New Zealand, India, Myanmar, East, and West Africa, Netherlands, and Japan, and they died in Myanmar. Every year hundreds of tourists come here to visit this Cemetery and pay respects that were laid their lives in World War 2.
22. Shilaidaha Kuthibari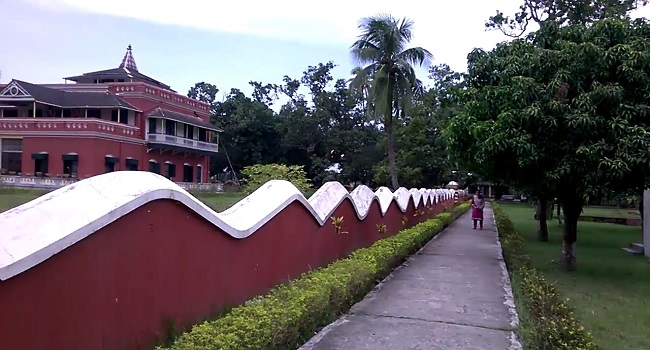 Shilaidah kuthibari located far away about 20 kilometers from Kusthia town. It is a beautiful mansion, where the great poets Rabindranath Tagore stay for a long. He came here in connection with the administration of his Zamindari and enriched Bengali literature through his writings. Rabindranath Tagore visited this place. From that time this place used as a historical place and every year thousands of people visit this place.
23. Sagordari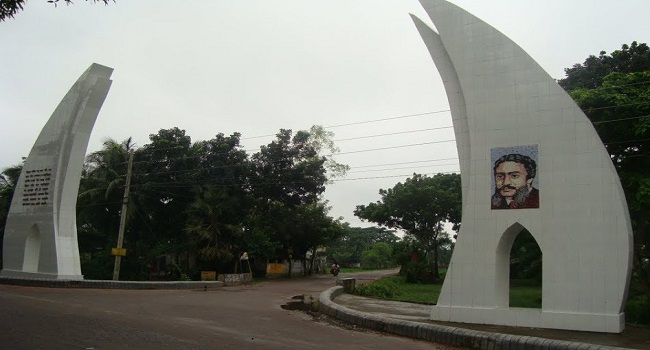 Our celebrated poet Micheal Madhusudan Dutta was born here. He is our first modern poet of Bengali literature. He was made Sonnet for Bengali literature. Bangladesh Parjatan Corporation has built a rest-house and other tourist facilities in the place. Now the place considered a great tourist spot.
24. Trishal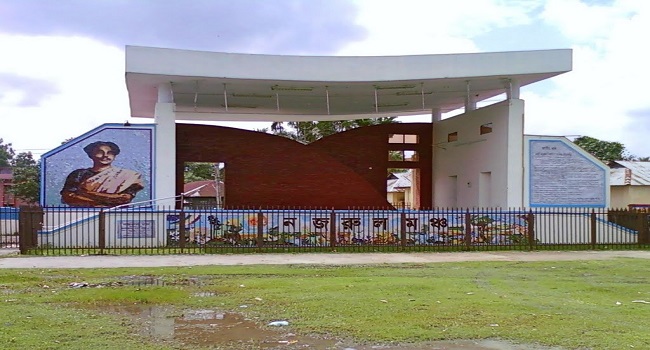 The national poet of Bangladesh, Kazi Nazrul Islam's innumerable boyhood memories are found around there. It is Situated 20 kilometer far away from Mymensingh town. Kazi Nazrul Islam was a student of Darrirumpur High School. To commemorate our great poet Kazi Nazrul Islam, here a cultural organization established Nazrul Academy. Every year many people visit the place.
25. Chandranath Hindu Temple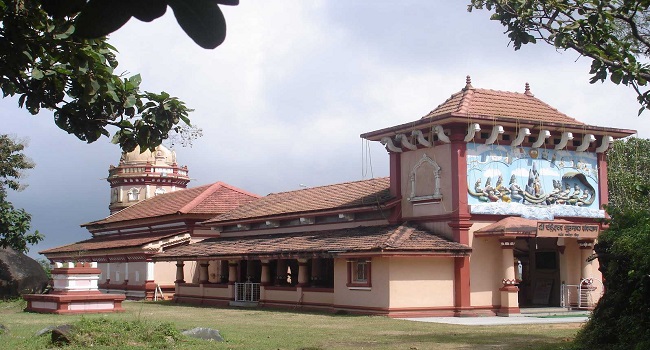 It is far away about 37 kilometers far from Chittagong City. The Temple is famous for its creativity. The temple is one of the oldest Temple in this subcontinent. This Temple was built by Hindu Raja Chandranath. There is also a Buddhist Temple. This Temple has a footprint of Lord Buddha. These places particularly the hilltops are regarded as very sacred by the Hindus and Buddhists. A famous festival is celebrated here every year. From around the country, thousands of pilgrims assemble here for the celebration. There is also a place to visit. It is a hot-water spring. It is far About 5 kilometer north from Shitakunda.
26. Mujibnagar Memorial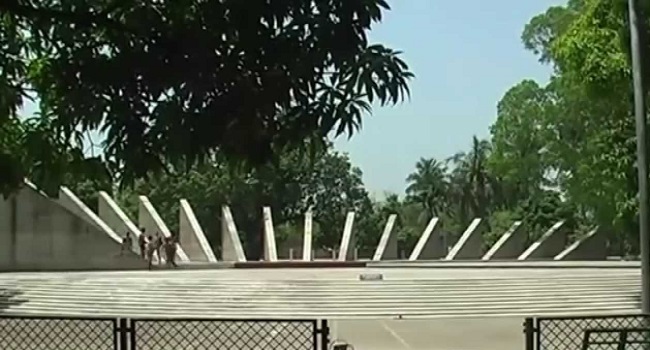 it is situated about 7 kilometers far from the Meherpur town. There was built a beautiful memorial. The beautiful memorial dedicated to the first revolutionary government of Bangladesh that was declared in Meherpur on 14 April 1971 during the liberation war. The first government of Bangladesh and it was held for politically help in the liberation war.
27. The shrine of Hazrat Shah Jalal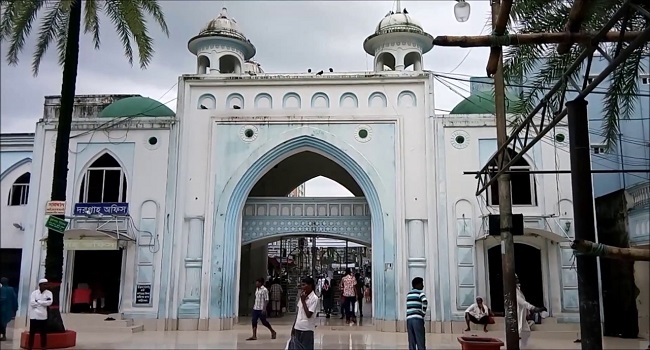 Hazrat Shah Jalal (R.A.) is a great Muslim saint. It is said to have the message of Islam to the region in the early 14th century. He was brought to us the message of Islam. His shrine is situated at Dargah Mahalla in the middle of Sylhet town. There is another shrine in Sylhet. Hazrat Shah Paran shrine, it is about 6 kilometers away far from Hazrat Shah Jalal shrine. Hazrat Shah Paran is the nephew of Hazrat Shah Jalal. He was also a great Muslim saint.