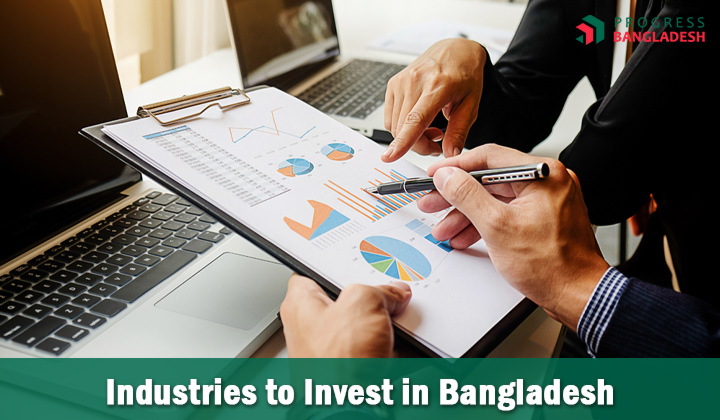 Business
Which Industries to Choose to Invest in Bangladesh?
An investment is an asset or commodity acquired with the intention of producing revenue or appreciation. Appreciation refers to an increase over time in the value of an asset. When a person buys a good as an investment, the goal is not to consume the good, but rather to use it to generate wealth in the future. In hopes of a higher return in the future than what was originally put in an investment often concerns the outlay of some commodity today: time, money, or effort.
The main purpose of this act of investing is to produce revenue and increase value over time. An investment may refer to any method used for future revenue generation. Among other examples, this involves the buying of shares, securities, or real estate property. Additionally, it can be called an expenditure to purchase a property that can be used to manufacture products.
There is often a certain amount of risk associated with investment since investing is geared towards the potential for future growth or profits. An investment may not produce any revenue or overtime, may potentially lose value. It's also a chance, for instance, that you could invest in a company that ends up going bankrupt or a project that fails to materialize. This is the keyway in which saving can be distinguished from investing: saving is storing capital for potential use and involves
The recent path of Bangladesh to economic growth has been a fruitful one so far. The GDP forecast rose to 7 percent in 2020, and the country has an almost unrivaled growth rate, which means that GDP per capita is on track to surpass India by 2030. According to the World Bank, poverty has steadily decreased from over 40 percent in 1991 to about 14 percent in 2016/17. Bangladesh was considered to be the world's largest least developed country (LDC) in terms of both population and economic size but it hopes to graduate from the UN's LDC category very soon.
In Bangladesh, the most eye-catching industries to invest in are:
IT (Information Technology)
Pharmaceutical Sector
Tourism Sector
Real estate sector
Agro-agriculture sector
Medical equipment sector
Ecommerce Business
IT (Information technology)
A relatively new sector in the country's economy is the ICT industry. Although the national economy has yet to gain insight into the issue's contributions, it is an important growth area. In Bangladesh, ICT and its related business services are a vibrant sector backed by an optimistic culture and a government dedicated to providing all investors with a pro-business environment. More than 400 IT companies in the country are now flourishing, serving local and foreign markets worldwide. Bangladesh's information and communications technology (ICT) sector has sustained export growth of 57.21 percent on average over the last nine years since 2009.  The ICT sector has created around three hundred thousand job opportunities so far and has overall had a contribution of one percent of the GDP (gross domestic product). As internet usage increases, the government expects the IT sector to add 7.28 percent to GDP growth by 2021. (source: Bizbangladesh)
The government is actively considering moving into e-governance to include everything
the information necessary for people and for effective and transparent services and the implementation of an information system to improve quality, effectiveness, and dynamism in the public information environment and organizations and to guarantee their transparency.
The IT industry in Bangladesh has many attributes to invest in because of its numerous parameters of functionality such as:
AI (Artificial Intelligence)
Digital Marketing
Cyber Security
Web Development
Pharmaceutical Sector
One of the most technologically advanced industries currently operating in Bangladesh is the pharmaceutical industry. It has risen at a tremendous pace in the last two decades. The main reasons for these advances are the expertise and experience of practitioners and the creative ideas of the individuals involved in this sector. At the moment, about 300 pharmaceutical firms are working. Just 3% of the drugs are imported, with the remaining 97% coming from local farms. Bangladesh has been able to export medicine to global markets through positive developments in the pharmaceutical field. The pharmaceutical industry in Bangladesh is currently effectively exporting its goods to 79 countries around the world, and this amount is expected to rise in the coming years.
The pharmaceutical industry in Bangladesh is rising from BDT 138.81 billion (USD 1.78 billion) in 2013 to BDT 154.74 billion (USD 1.99 billion) in 2014; +11.5% in local currency terms and +12.1% in US dollar terms (source: Rimex international). The pharmaceutical industry in Bangladesh is now moving towards self-sufficiency to meet local demand with an annual two-digit growth rate.
Pharmaceutical companies such as Beximco Pharma are well known and established brands. These companies are most likely to make huge profits in the near future due to the vast dependencies of people on it. The future of pharmaceutical exports from Bangladesh is bright and has a lot of potential in terms of investment returns. Bangladesh is the only country that has a strong pharma manufacturing base. Besides direct export operations, there is also a huge opportunity for the Bangladeshi companies to go for Contract Manufacturing and compulsory licensing. The good news is, the leading pharma exporters of Bangladesh have already started availing of these opportunities.
Tourism Sector
Bangladesh is a fascinating tourist destination where the range for all forms of tourist interest and investment can be found. Some commendable initiatives have been adopted by Bangladesh, including the construction of tourist accommodation and entertainment facilities across the country. In 2010, the Government of Bangladesh recognized tourism as an industry and established a new National Tourism Policy for the advancement of the country's regional and international tourism.
Bangladesh provides attractive and promising opportunities to build multi-faceted tourism facilities around tourist sites for foreign investment. Unique archaeological sites, cultural heritage, and eco-tourism items, such as the largest mangrove forest in the world, the Sundarbans, the longest unbroken sea beach in Cox's Bazar (120km), the oldest archaeological site in the Southern Himalayas-Paharpur and the largest terracotta temple in the world-Kantaji Temple in Dinajpur, and magnificent monuments and mausoleums of language revolution and liberation. In 2017, about half a billion USD was received from the tourism sector. The country's tourist spots such as Cox's Bazar, Kuakata, Kantajee Temple, Saint Martin's Island, Sonargoan, Sylhet, Sundarbans, Ramsagor, etc.
The tourism sector has a lot to offer when it comes to investment benefits and opportunities. The industries that are lucrative for investments are:
The hotels in the tourist spots are a great source of generating income and also return the investment facilities. Hotels such as The Cox Today are open to getting investors on board.
Due to the government's pro-foreign and private sector tourism-friendly policies, private investment in this sector is currently steadily growing. Foreign investment in Bangladesh's tourism sector is always welcomed.
Real estate sector
Today, everybody has hopes, dreams, and ambitions in a competitive world to make it big by getting their own business or building their own home. The citizens of Bangladesh also have the dream of building. This is where real estate firms come into the picture to fulfill people's dreams.
In general terms, real estate includes the physical surface of the property, which resides above and below it, what has been permanently attached to it, including all property rights, along with the right to buy, sell, lease and enjoy the property. Real property must not be confused with personal property, which includes all assets that do not match the real property concept for example vehicles, aircraft, furniture, clothes, and smartphones. The key feature of personal property is that it's movable.
The most renowned and well-known among these real estate firms is Shanta Holdings because of the opportunities of its beautiful yet lavish designs, they have constructed multiple buildings and fulfilled the dream of building their own homes for many people. Although investing in real estate can be really expensive, it is an asset that is sustainable for the entire lifetime. You can either invest in the land or the apartments that the real estate companies such as Shanta are putting on the market. The upgraded buildings are both aesthetic and future-friendly. Investing in the properties or the flats of Shanta Holdings will secure your future and help you advance on the correct path.
Agro Sector
Bangladesh's economy is based primarily on agriculture. It is estimated that about 84% of the total population lives in rural areas and is involved in a wide range of agricultural activities, directly or indirectly. Agriculture contributes about 20.29 percent to the country's GDP -23 percent. Approximately 43.6 percent of the labor force is employed in agriculture, with about 57 percent working in the crop field. (Source: Bangladesh Economic Review – 2011 Bangla Version)
For good agri-based industries, Bangladesh has the essential characteristics of rich alluvial soil, a year-round frost-free climate, available water, and an abundance of cheap labor. Increased production of vegetables, spices, and tropical fruits are now grown in Bangladesh and could supply both domestic and export markets with raw materials for local agribusiness industries. The consistency has been enhanced by innovative farming practices, improved marketing methods, and modern processing facilities.
In order to invest in agriculture, you either need to buy your own land and farm the products or you can invest in existing agro-based companies. In short agro is an up-and-coming business that gets you benefits in the future with its empirical probability. It will restore the environment as well as secure your future too.
Medical Equipment Sector
The production of medical devices is a possible field for investing and setting up plants in Bangladesh. With the ongoing pandemic that has hit the world by storm, the demand and need for medical equipment are at their maximum.  Medical equipment starting from an oximeter to large bulky medical equipment such as ventilators was scarce and people had to suffer because of the lack of resources in our country. Although in recent years, large private hospitals have represented the best chance to sell pricey high-end equipment and medical devices, our country is still lacking.
Investing in medical equipment will not only save the lives of many people but also help you secure your money with the benefits you will get from the hospitals using them. Bangladesh's large medical equipment market is almost dependent on imports. Hundreds of new health facilities are being constructed by the government and existing facilities and equipment are being upgraded which gives us a big chance to invest in this sector.
E-commerce Websites
Ecommerce, also known as electronic commerce or internet commerce, refers to the procurement and sale of internet-based goods or services and the transfer of money and data for the execution of such transactions. Ecommerce is mainly used to refer to online sales of physical goods, but any form of commercial transaction that is facilitated via the internet may also be identified.
Among today's customers, online shopping is extremely popular. Customers are more likely to research and purchase items from eCommerce sites than to browse for them at traditional store locations. The constantly rising demand for goods opens the door to the arrival of more online retailers and to catch their share of a growing market.
Investment in eCommerce results in further opportunities for growth. Growth and expansion are much easier and accessible to this platform. Although it can take years before retailers are able to open a second physical store location, successful eCommerce brands have more opportunities in their initial years to grow and expand faster than conventional retail stores into international and multichannel markets.
The economy worldwide is going to be completely dependent on electronics and applications in the next 5 years. E-commerce is going to play a big role in the near future as well and investing in these businesses will be very beneficial for us. Ecommerce is opening up many opportunities for both entrepreneurs as well as multinational businesses. Ecommerce websites such as chaldal.com are making investments to enhance and improve their web-related services for a better user experience.
Conclusion
The whole purpose of writing about the sectors to invest in Bangladesh is to promote and generate awareness in the public so that they know where to invest their money. Investment is something that takes a lot of thinking to put faith in and also to put oneself towards it because an investment may not generate any profits or overtime, and may potentially lose value. This article is going to help you discover where to invest that will secure your future and also help our country's economy in one or another. I hope this article was helpful to you.