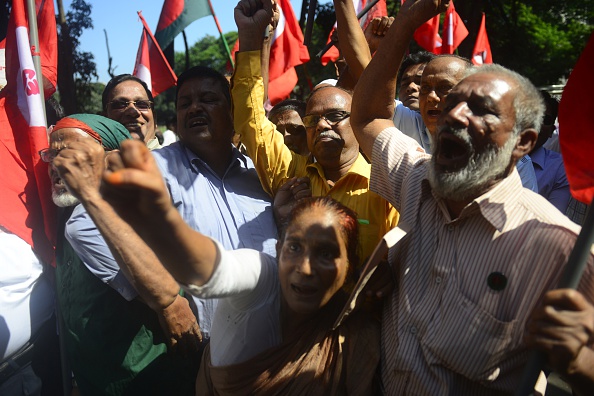 Activists and former freedom fighters who fought against Pakistan in the 1971 war demonstrate following the sentencing against Jamaat-e-Islami party leader Motiur Rahman Nizami outside the International Crimes Tribunal court in Dhaka on 29 October 2014 (
Getty)
More than 40 years after hundreds of thousands of people were killed by the Pakistani army and affiliated paramilitary forces during the 1971 Bangladesh Liberation War, no one has yet been held accountable for the atrocities committed.
The genocide started with Operation Searchlight, ordered by the government of West Pakistan and carried out in East Pakistan, current Bangladesh.
The operation aimed to take control of the main cities in East Pakistan and eliminate the opposition, but resulted in the death of thousands of civilians.
It is believed that between 300,000 and one million people were killed during the genocide.
The first attempt to bring the genocide perpetrators to justice was made when Bangladesh set up its ownInternational Crimes Tribunal (ICT) in a bid to try the so-called "genocide collaborators", as Pakistani army members, the primary perpetrators, could not be tried on Bengali soil.
However, since its inception, the ICT has been criticised by the UN and several right groups,including Human Rights Watch, who argued that the tribunal fails to observe international law standards and that its rulings are flawed.
The widespread criticism prompted human rights barrister and author Geoffrey Robertson to investigate the modus operandi of the ICT, only to conclude in his report that the tribunal does not adhere to any internationally recognised standard and that the UN should develop an international tribunal to try the suspects.