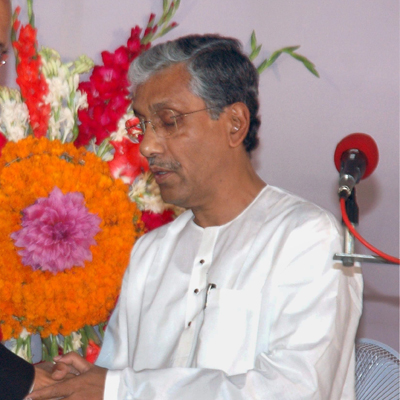 Tripura CM Manik Sarkar
Chief Minister Manik Sarkar has urgedPrime Minister Narendra Modi for further improvement in relations withBangladesh for better connectivity and development of the state and invited him to visit Tripura.
The maiden meeting between Modi and Sarkar was held in New Delhi on Friday, a press statement issued by the government said here today.
"Prior to partition, Tripura was seamlessly connected to India through Bangladesh by road, rail and waterways which needs to be restored. There is an urgent need for transit and transshipment facility through Bangladesh", it quoted sarkar as saying in his written memorandum. "Government of India may persuade Bangladesh government for allowing multi modal transportation of goods through Bangladesh with Ashuganj as the port of call including related infrastructuredevelopment and access to Chittagong port," he said.
Sarkar said towns in Tripura were connected by railway network with erstwhile East Pakistan and Agartala itself was serviced by Akhaura railway station. "Bangladesh may be pursued to take all necessary actions and Railway Ministry may take up this reconstruction work with highest priority."
He also drew the PM's attention to the poor and unsatisfactory telecom services in the region and demanded latest equipment and technology and alternate telecom routing to Tripura through Bangladesh. "Alternate telecom routing through Akhaura (in Bangladesh) to Agartala as well as internet connectivity through Cox's Bazar (in Bangladesh) may be pursued with Bangladesh authorities vigorously for improving telecommunication facilities in the North-eastern region, including Tripura," he said in his written memorandum.
Sarkar also invited the Prime Minister to visit Tripura for inauguration of the second unit of the 726 mg watt gas based thermal power project at Palatana in Gomati district and reiterated his demand for sale of 100 MW power from the project to Bangladesh.
Sale of 100 MW power from the allocated capacity of Tripura to Bangladesh and developing transmission facilities for supplying the power from ONGC Tripura Power Company plant to western side of Bangladesh through the grid station at Surjyamaninagar, may be looked into, the memorandum said.
He also demanded that Agartala airport, which has the second largest air traffic in the region after Guwahati, be made an international airport by developing required facilities for convenience of passengers travelling between Agartala and Dhaka and Chittagong in Bangladesh and other parts of the South-East Asia.