Molla Boadnuzzamah listed Next, Primark, George, Gap, H&M, and Morrisons as customers who were using the factory. Other workers we spoke to independently also gave the names, aside from Morrisons.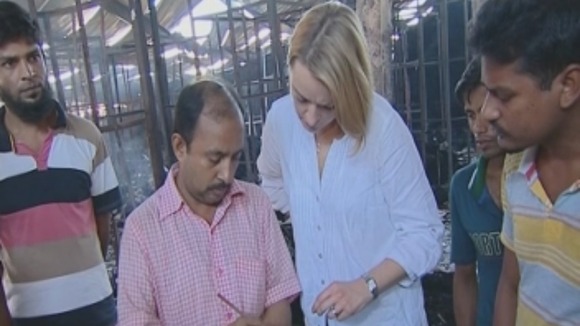 ITV news has also filmed documents and files still in the factory showing some of the names including George, H&M, Gap and Primark.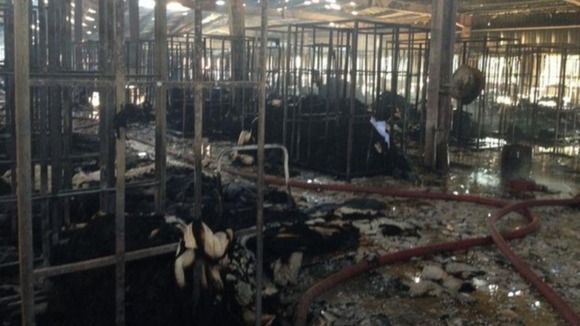 Nine people were killed and dozens injured in the fire. We were told it started when a machine overheated in the knitting room of the factory. The authorities are still investigating.
We have contacted all of the companies concerned and are waiting for them to respond.
H&M however have confirmed that fabric for some of their clothes was made in the factory.
They've just given us this statement.
H&M has got a business relationship with Palmal Group, which owns several factories. H&M works with a sister unit to the affected factory. The name of the factory producing for H&M is called ASWAD COMPOSITE MILLS LTD (Unit 2) and is approved for production by H&M.

Aswad Knit Composite factory is a component factory. They make fabric and yarn for different factories that produce garments. One of the factories that they deliver fabric to is Aswad COMPOSITE MILLS LTD . Hence, we don't have a direct business relationship with the affected factory.
Morrisons have given us this statement in response:
We are saddened by the events at the mill and our thoughts are with the families at this time.

We purchased garments from the Palmal company, which were produced at sites elsewhere in Bangladesh.

It's likely that fabric from the Aswad Composite Knits fabric mill in Gazipur would have been used to supply the material to make some of those garments.
Next have given us this statement in response:
Marina Garments is a supplier to NEXT, who in turn sourced fabric from the Aswad Unit One Mill. As a result NEXT has had no direct contact with the Aswad mill.

The cause of the fire at Aswad, which is at a different location to Marina Garments in Bangladesh, is under investigation by the local authorities and is currently unknown.

Prior to and since engaging Marina Garments a year ago, NEXT audited the factory, using its own in-house audit teams and no major issues have been found. However, because Aswad is a third-party fabric supplier to Marina Garments, it had not been inspected by NEXT.

As the cause of the fire is unknown, it is not clear whether any audit would have prevented this tragedy. Once the cause is known, as routine NEXT will review its procedures, including the extent to which it needs to look further down the supply chain – particularly in high risk areas such as Bangladesh.

NEXT is deeply saddened by events and its immediate thoughts are with those who have lost loved ones or have been hurt. NEXT is already in contact with the other major UK retailers involved, to decide how best to coordinate immediate help for victims and their families. NEXT is awaiting further information from the scene and therefore cannot comment further at this time.
Source: ITV