'Twenty years ago, the area was flooded with seawater to farm shrimp. Now there is nothing to drink'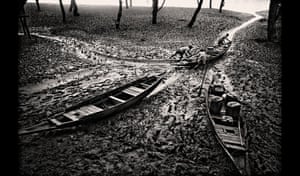 Munem Wasif's shot of Bangladeshi fishermen seeking fresh water Photograph: Munem Wasif
Bangladesh is a country of rivers and water. The world is used to seeing images of us only when we are underwater, due to all the flooding. However, in the Satkhira region in the south-west of the country people struggle each day to find water they can drink.
I first went to Satkhira in 2009, when I received a grant from Prix Pictet to create a series of photographs on the theme of water. Around 20 years ago, people startedfishing for shrimp in the area by introducing seawater further inland. It was a profitable business and soon became a major industry, but no one thought about the effects the salty water would have on the people or the landscape. When you go there now, all you can see are the shrimp farms and dry, cracked land. The saline, added to the effects of climate change, means there is no more greenery there – all the trees are dying. People's lives have changed completely because there is no water to drink – all the water is salty.
When I arrived there, it wasn't immediately obvious how I could tell this story in a visual way. I travelled around the area on my motorbike, and little by little I realised that it's not just about the salt water, it's about the damage it has done. I spent time with people who have lived and worked in the area, and tried to follow the causes of the situation and the effects.
In the photograph, you can see Shajhan Siraj and his two brothers. They are pushing boats through the mud – it's a low tide, and they need to get back to their village, which is three hours away. They have had to travel all this way to collect fresh water for their families. It's a beautiful photograph, but once you know the story behind it, it becomes tragic. They have had to work so hard to get this water – they can't hold down a normal job as well.
Some people, farmers for example, have had to change their profession completely because of the dry land. Some have moved to bigger cities to work as labourers. Others have gone to work in the forest, which is extremely dangerous; many people are killed in tiger attacks.
When I received the grant, I was supposed to make two trips to the area, spending a total of 20 days working in the region. I've been working on this project for more than three years now and have got to know a lot of people whose lives are affected by this. It is such a sad story: while you can see water everywhere, there is not a drop to drink.
CV
Born: Comilla, Bangladesh, 1983
Studied: BA photography, Pathshala South Asian Media Institute, Dhaka
Influences: Josef Koudelka, Graciela Iturbide, Sebastião Salgado
High point: "Winning the City of Perpignan Young Reporter's award at Visa pour l'image in 2008 – it changed how people regarded my work"
Low point: "When my work is not reproduced well in newspapers and magazines"
• Munem Wasif's work will be showcased in the the Prix Pictet Commissions at Somerset House, London WC2, 11-31 October.
Source: The Guardian