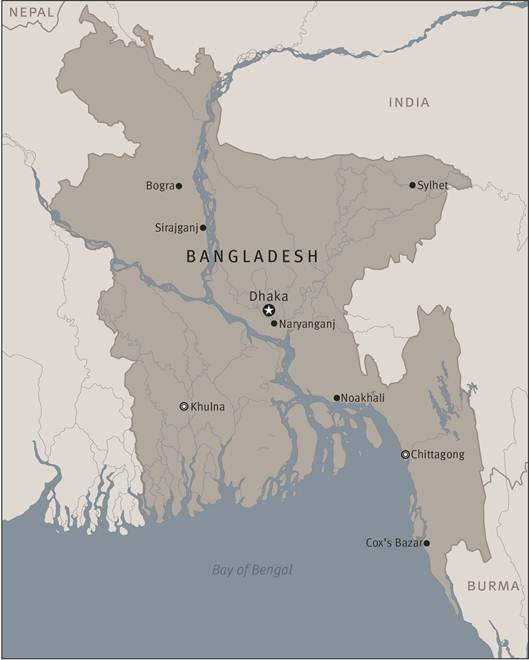 Map depicting locations of some of the largest clashes in Bangladesh since February 28, 2013. © 2013 Human Rights Watch
Huge demonstrations have resulted in two major episodes of deadly street violence in Bangladesh in 2013. From February to early May, more than 150 people were killed in the violence, including at least 15 members of the security forces; at least 2,000 people were injured.
Demonstrations were held in favor of and against verdicts handed down by the International Crimes Tribunal (ICT) in January and February 2013. They were followed by even larger demonstrations in Dhaka in early May 2013 led by Hefazat-e-Islam, an Islamic movement. Some demonstrations were entirely peaceful; in others protesters threw rocks at or otherwise attacked security forces. In a few cases, officers were beaten to death.
In many cases, security forces responded to violence in an appropriate fashion, using non-lethal methods to disperse crowds. Yet in many other cases documented in this report, the police, Rapid Action Battalion (RAB), and the Border Guard Bangladesh (BGB) responded with excessive force, killing protesters and bystanders. Security forces used rubber bullets and live ammunition improperly or without justification, killing some protesters in chaotic scenes, and executing others in cold blood. Many of the dead were shot in the head and chest, indicating that security forces fired directly into crowds. Others were beaten or hacked to death. At least seven children were killed by security forces.
With regular hartals (strikes) called by opposition political parties in response to verdicts of the ICT and others likely in the run-up to national elections due by January 2014, there is a significant risk that Bangladesh could descend into a vicious cycle of violence and lawlessness. To avoid this, the government should institute new procedures to ensure that the rights to freedom of assembly and expression are upheld. Peaceful protesters and bystanders need to be protected from unlawful use of force and firearms by the authorities. Organizers of demonstrations and political parties should also take steps to minimize the risk of violence. Those responsible for abuses need to be held accountable.
ICT-Related Demonstrations and Violence
Violence broke out in Bangladesh on February 28, 2013, after the ICT, a domestic court set up to prosecute those responsible for atrocities committed during the country's 1971 war of independence, convicted the vice president of the Jamaat-e-Islam party, Delwar Hossain Sayedee, of war crimes and sentenced him to death. This conviction followed the January 2013 conviction of Abul Kalam Azad, who was tried in absentia and sentenced to death after being found guilty of crimes against humanity, genocide, and rape. On February 5 the ICT found Abdul Qader Mollah, assistant secretary general of Jamaat, guilty of five of six charges, including crimes against humanity, and sentenced him to life in prison. Since then, the ICT has announced two new verdicts. Jamaat leader Ghulam Azam, 91, was sentenced to 90 years in prison for war crimes on July 16, 2013. On the following day, Ali Ahsan Mohammad Mojaheed, secretary-general of the party, was sentenced to death. The Mollah verdict was greeted with protests, initially centered in the Shahbagh neighborhood of Dhaka, demanding the death penalty. The Shahbagh movement, as it came to be known, was largely peaceful, though some protesters were attacked. The governing Awami League party supported the aim of the protesters and did not attempt to break up the protests.
The February 28 conviction of Sayedee led to demonstrations in Dhaka and districts around the country by supporters and opponents of the verdict. Those celebrating the verdict engaged in some vandalism and violence. Those protesting the verdict, including Jamaat members and supporters, also engaged in violence, leading to civilian and police casualties. Jamaat party officials acknowledged to Human Rights Watch that some of their members had been responsible for isolated incidents of violence. Human Rights Watch viewed footage of hundreds of protesters in Cox's Bazaar who threw stones and beat on shop fronts with sticks as they passed through the town.
In villages and cities across the country, supporters of Sayedee, a well-known Islamic scholar and politician, took to the streets in protest. In Dhaka, Noakhali, Bogra, Chittagong, Rajganj, and dozens of other locations, hundreds of Jammat supporters and Sayedee followers joined the protests, some spontaneous, some organized in advance.
Eyewitnesses in each location described similar patterns. Protesters gathered in town centers, sometimes moving towards police stations and in some instances Awami League offices. Protesters were usually unarmed but were often seen wielding sticks or carrying rocks and broken bricks. In the majority of locations, eyewitnesses told Human Rights Watch that police initially tried to contain crowds using rubber bullets, tear gas, and other crowd control measures such as bird-shot, which releases dozens of small pellets when fired from shotguns. In many instances, however, this approach was short-lived, with security forces quickly transitioning to use of live bullets and non-lethal weapons fired into the crowd at chest and face height, causing deaths and many serious injuries.
A 20-year-old witness described to Human Rights Watch one such incident in Bogra, the morning after the Sayedee verdict:
Around 7:15 a.m. after prayers, my mother woke me up and asked me to go out to the street with her. There was a women's procession. I was behind her in the procession and we all went towards the Shananpur local police station. People started throwing bricks and then the police started to open fire. The women were in the front of the procession, they were all sitting down in front of the police station in protest. My mother was among other women sitting.… First they used tear gas, and then they started firing. Everything was chaotic, once the police fired the tear gas, all the people started running in different directions. When they started firing the guns we ran…. For a half hour the shooting continued with pauses.… I saw about four people who died. One was a man, the others women. One of those killed was my mother. Many people were injured.
In some cases detailed in this report, witnesses described the police chasing protesters who participated in protests and executing them at close range.
Hefazat-e-Islam Demonstrations and Violence
A second round of violence took place in Dhaka on May 5-6, before, during, and after a rally by tens of thousands of supporters of a previously little-known organization, Hefazat-e-Islam (Protectors of Islam). Hefazat describes itself as a non-political grouping of religious bodies. Among its demands are a ban on the public mixing of the sexes, criminal prosecution of atheists, and the imposition of the death penalty for blasphemy.
Hefazat called for a national march on Dhaka to demand implementation of its 13-point plan. As crowds of religious students and teachers entered the city on May 5, many from the southern port city of Chittagong, violent clashes broke out between some protesters and security forces. Activists of the Awami League joined in, often facing off against supporters of Jamaat and the opposition Bangladesh Nationalist Party (BNP).
The worst violence took place near Dhaka's central mosque, Baitul Mokaram. Protesters set fire to shops, two office buildings, and a bus, and clashed with police. The security forces retaliated with tear gas, rubber bullets, and live fire. Video footage shows police officers using heavy sticks to beat apparently unarmed protesters lying on the street. Hundreds of people were taken to nearby hospitals.  A 25-year-old Hefazat-e-Islam volunteer described the incident to Human Rights Watch:
We took shelter in the Baitul Mokarram mosque. The police called us to come out. When we did, they fired at us. Bullets hit my face, and when I fell down they came and shot me in my knee and abdomen and shoulder. They shot from barely 10 feet [3 meters] away. All were rubber bullets with lead balls. I was not armed, I did not have a stick. I was hit 19 times. I said to them, "Why are you shooting at me? I'm a volunteer." Now I cannot see anything from my right eye, and after an operation I can see only a little bit from my left eye.
Some of the victims were bystanders, like shopkeeper Raqibal Huq, who died of a gunshot wound to the head. Most were Hefazat supporters like 20-year-old Saidul Islam who was killed by a sharp blow to the head, and 20-year-old Sadam Hussein, whose corpse had gunshot wounds and large cuts to the back.
Police officers were also attacked. One eyewitness in the Dilkusha area told Human Rights Watch that he saw a policeman being knocked to the ground by a group of Hefazat supporters. "It soon became quite grisly and there was blood everywhere," he said.
By nightfall on May 5, many of the demonstrators had left the city, but about 50,000 had converged on the Shapla Chattar intersection in the heart of the city's central business district, Motijheel. There they held prayers and were addressed by their leaders. At 2:30 a.m. the security forces launched an operation to remove them. Hundreds of police, RAB, and BGB personnel took part in this action, which lasted several hours. They first used megaphones, asking the protesters to leave the area peacefully. Then, moving in from two directions, they used tear gas, rubber bullets, and sound grenades to disperse the demonstrators. Most fled the area, but others hid in side streets and buildings, which were then swept by the security forces.
The government and opposition parties have given widely-differing accounts of what happened next. Human Rights Watch found neither account credible. According to the opposition and Hefazat leaders, the police and RAB killed hundreds of protesters during the sweeps, before secretly dumping the corpses. Hefazat leaders later claimed that government workers picked up the bodies in garbage trucks and dumped them outside the city. They say they are compiling a list of the missing, but are finding it hard to do so because of harassment by the security agencies. According to the group's leaders, 2,000-3,500 people were killed by the security forces. Some opposition figures hyperbolically called it "genocide."
The government, in turn, has described the Hefazat and opposition party claims as "grossly fabricated." Foreign Minister Dipu Moni said that the security forces conducted a well-planned and disciplined operation, designed to minimize casualties.  She denied that anyone was killed during the operation, saying that the police had recovered only the bodies of 11 people killed during the previous day's clashes.
While Human Rights Watch found no evidence to support the numbers claimed by the opposition and Hefazat leaders, there is strong evidence to dispute the government assertion of a disciplined operation. Journalists and protestors who witnessed the event told Human Rights Watch that on several occasions the security forces opened fire at close range even after unarmed protesters had surrendered. The security forces did not just fire rubber bullets, but also shotgun pellets. Many witnesses spoke of seeing corpses. As already noted, video footage shows police and RAB men beating what appear to be severely injured protesters.
One journalist remembers shaking 25-30 bodies and checking their pulses and is convinced some were dead. Another reporter saw RAB soldiers dragging four bodies near the offices of Biman Bangladesh airlines and loading them onto a truck. When he went to inquire about them, a soldier hit him with a stick on the side his head. The same journalist later checked the pulse of a boy who was lying on the steps of the Sonali Bank and was told by a police officer that the boy was dead. He remembers seeing a lot of bruising around his neck and chest.
One of the protestors described being caught in the violence:
They were raining bullets, tear gas and hot water down on us. It was a terrifying situation. I was with my brother and we tried to escape over a wall. They started beating us with sticks as we climbed over it. I jumped and broke my foot when I landed on the other side. As I tried to run away I was shot. Later, the x-ray showed that there were 102 pellets in my leg. I was not armed. I only had my prayer carpet and prayer beads. It was not aimless shooting, they were targeting us, they were aiming at us. The police were 2 to 3 meters behind me. It was not accidental fire.
Violence continued the next day as Hefazat supporters left Dhaka. Madrassa students supported by opposition activists blocked the main highway to Chittagong and attacked police and BGB officers, killing four. They burned down a police post and destroyed two RAB vehicles. The security forces retaliated, and video footage shows them firing shotguns at protesters. Local hospitals told reporters that seventeen people died that morning.
Based on hospital logs, eyewitness accounts, and well-sourced media reports, Human Rights Watch believes that at least 58 people died on May 5 and 6, seven of whom were members of the security forces. However it is likely the death toll was even higher. It is imperative that the government investigate all claims of people still reported as missing. While some could be in hiding, it is possible that others were killed.
Arrests and Intimidation of Protesters and the Media
Many Bangladeshis we spoke with believe authorities used spurious criminal charges to intimidate eyewitnesses and family members of protesters killed by security forces. In a number of instances after protests, police lodged criminal complaints from members of the public (called "First Information Reports," or FIRs) against hundreds and sometimes thousands of "unknown assailants." Police would then enter the communities where protesters came from, using the FIRs as justification for otherwise arbitrary arrests of scores of individuals, particularly of men thought to be Jamaat supporters. The sweeps left men in these communities fearful and drove many into hiding. A researcher from the Bangladeshi nongovernmental organization (NGO) Odhikar told Human Rights Watch that after the February 28 protests in Chittagong he visited three surrounding villages; all were devoid of men, presumably because, fearing arbitrary arrest sweeps, the men were hiding from police.
Following the Shahbagh protests, Awami League leaders, including the home minister, suggested that Jamaat should be banned and media outlets connected to the party closed.
The media faces increasing pressure. Several opposition newspapers and television channels were closed by government order during or after protests and incidents of violence. At this writing some have still not resumed operations. In an apparent attempt to cut off opposition coverage of the events, two television stations that support opposition political parties, Islamic TV and Diganta TV, were taken off the air by the government on the night of May 5-6 while reporting from the Hefazat protest.
In one of the most high profile cases, police arrested Mahmdur Rahman, the editor of the opposition news outlet, Amar Desh, and an advisor to the previous BNP government. Rahman was subsequently charged with sedition. Physical attacks on opposition media, including vandalism and arson, have also occurred with little to no investigation or action by police.
Activists have also been targeted. In April, four bloggers previously described as "atheists" by Amar Desh were arrested for posts criticizing what they characterized as an increasingly fundamentalist Islam. One of them, Asif Mohiuddin, had previously been attacked, he says, by Islamist extremists. Several blog sites were closed.
Government Response
While security forces have been quick to arrest hundreds of protesters and suspected Jamaat supporters, Human Rights Watch found no indication of any meaningful investigations by authorities into alleged security force violations, including unjustified or improper use of live ammunition, mass arrests, and extrajudicial executions. Human Rights Watch has requested but has not received any information about investigations into the deaths of protesters or bystanders, including children. The Bangladeshi authorities are obliged to investigate the use of live fire by security forces and hold perpetrators to account.
At its submission to the United Nations Human Rights Council in February 2013, Bangladesh said it would investigate "every incident of use of force or exchange of fire by police, RAB or other LEAs, even though [it] occurred in the course of authorized duty." It also stated that:
An Internal Enquiry Cell, a special team trained and organized with the US Government support, investigates any incident of use of force or exchange of fire by RAB members.
However, as of June 2013, the observers, officials, and judicial system monitors we spoke with were not aware of any such investigations being established or any member of the security forces being prosecuted for illegal use of live fire. No member of RAB is known to have ever been successfully prosecuted for a human rights violation. The prosecution of those responsible for excessive use of force should be a government priority.
Human Rights Watch also urges Bangladeshi authorities to publicly order security forces to follow the United Nations Basic Principles on the Use of Force and Firearms by Law Enforcement Officials, which state that security forces shall "apply non-violent means before resorting to the use of force and firearms," and that "whenever the lawful use of force and firearms is unavoidable, law enforcement officials shall: (a) Exercise restraint in such use and act in proportion to the seriousness of the offence and the legitimate objective to be achieved; (b) Minimize damage and injury, and respect and preserve human life."
Leaders of political parties should also urge restraint and reject calls for violence during political demonstrations. Human Rights Watch calls on political leaders in Bangladesh to avoid rhetoric that would incite violence.
Key Recommendations
Human Rights Watch calls on the Bangladeshi government to:
Immediately establish an impartial, transparent, and independent commission to investigate the large numbers of deaths and injuries that occurred in connection with protests between February and early May 2013. The commission should ensure that all perpetrators of serious human rights abuses are brought to justice regardless of their rank or political affiliation, and should make its findings public.
Provide training to security forces, including in overseeing demonstrations, crowd control, and response to violent protests, as part of efforts to bring their performance into line with international standards.
Immediately make public the number of persons detained in protest-related security operations, and ensure that all detained persons have access to legal representation and are treated in accordance with international due process standards. This includes ensuring all detainees are brought promptly before a judge and being promptly charged after the initial detention. For those properly charged and facing trial, pre-trial detention should be the exception, not the rule.
Source: Human Rights Watch