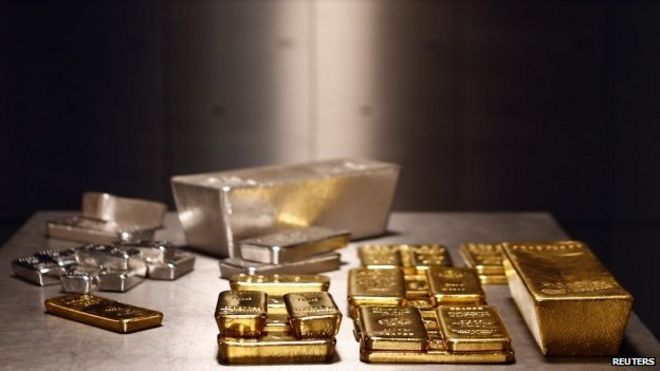 Most gold smuggled into and out of Bangladesh is bullion
Police in Bangladesh have arrested three senior officials of the state-owned airline, Biman, for their alleged involvement in gold smuggling.
Detectives said that those being held were in charge of preparing working rotas for junior officials.
They are accused of placing members of the smuggling syndicate on duty at specific times so that gold could be transported via a safe route.
In recent months, gold smuggling in Bangladesh has increased significantly.
Customs officials say that they have seized around 650kg of gold – worth an estimated $31m (£20m) – in the last 15 months.

The BBC's Akbar Hossain in Dhaka says that the increase in smuggling is mainly because of steep rises in Indian import duties on gold – the smuggling syndicates are using Bangladesh as a transit point to get gold into India.
India is one of the world's top importers of gold but its import tariffs are much higher than in neighbouring Bangladesh, even though the government in Dhaka has recently increased the tariffs in an effort to stop smuggling.
Our correspondent says that this is the first time police have arrested senior officials on such charges.
The Daily Star and other newspapers reported that a total of five men were arrested, including the three Biman schedulers.
"They would always put officials on duty who were members of the smuggling syndicate," a police official said. "This would create a safe route for smuggling."
There are numerous allegations that some cabin crews, captains and top of officials of Biman are involved in gold smuggling.
The airline is losing money despite being heavily subsidised and has recently closed down several routes.
Last week police arrested a Biman cabin crew for allegedly smuggling gold.
Bangladesh's domestic gold market mostly depends on the smuggling of gold bullion, our correspondent says.
Its value across South Asia is enhanced because it is widely worn by brides at weddings.
Source: BBC